James T. Bonnen, 87, died peacefully Sunday, July 28, surrounded by family. He was born in South Dakota to Alice and Clarence Bonnen and raised in College Station, Texas. While attending Harvard for his Ph.D., he met fellow student Sarah Smythe. They married in 1954 and moved to East Lansing where he took a position at Michigan State University. They raised a family of five children and Jim pursued a distinguished career as Professor of Agricultural Economics intertwined with community service locally and public service nationally. Always interested in spirited discussions of politics, history, foreign affairs or the arts, Jim's intellectual curiosity and full speed ahead attitude propelled him into a lifetime of accomplishments.
Throughout his career of teaching and research Jim focused on issues of public policy for rural development and agriculture. He received the Distinguished Faculty Award at MSU in 1972 and retired as Professor Emeritus in 1996. His interest in the organization and coordination of agricultural economic data systems led Jim to hold key positions in many statistical and agricultural associations. He served as a consultant to industry, government and foundations through participation in several national Presidential committees. The crowning achievement of his career was to deliver the opening lecture at the International Conference of Agricultural Economists, in Berlin, Germany in 2000.
Jim was associated with Christo Rey Community Center in Lansing for several decades, where he helped further the mission of the Center to deliver health, educational and counseling services to the community. Jim served in the U.S. Navy from 1943 to 1946 and continued in the U.S. Navy Reserve until he retired in 1988 with the rank of Commander.
Jim is survived by his wife, Sarah, five children and 10 grandchildren, Edwin (Kim Kauffman), Alice (Rich Glick; Lucille, Sarah), Clarence (Susan; Kathryn, Benjamin), Charles (Patricia; Alexander, Christopher, Joseph), John (Cynthia; David, Paul, Thomas), and best friend and protegé, David Schweikhardt. Also surviving are his siblings Jerry Bonnen, Marty Dixon, Mary O'Mara, Patsy Boughton and David Bonnen.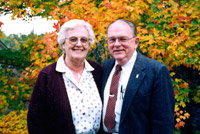 Link to slide show
Eulogy by David Schweikhardt

Remarks by Clifton Wharton, Jr.
Donations in memory of Jim may be made to the Greater Lansing Food Bank or a charity of your choice.

Anyone wishing to share their thoughts/rememberances of Jim are welcome to send them to Ed Bonnen at